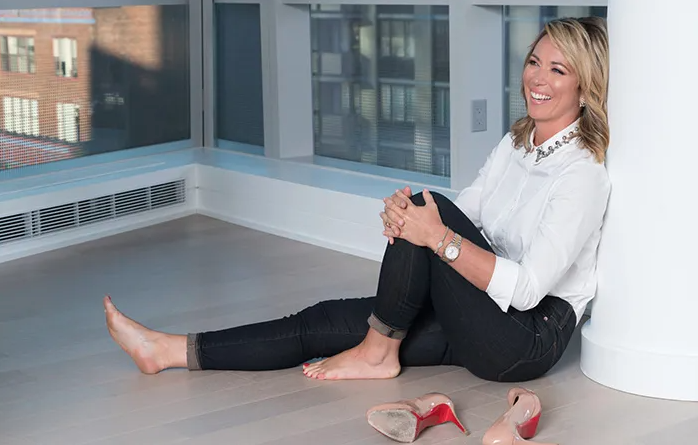 "It's simple. Educate yourself when it comes to the next election. Find the candidates who empower women/choice regarding women's bodies. VOTE."
Who inspires you the most?
ONE person isn't enough! My mom for telling me, "I CAN!" ever since I was a squatty nine month old walking. My dad for teaching me how to be dedicated to a career and soar. My brother for showing me how much he loves his wife. My Executive Producer, Eric, for coming to the table every morning with a real love for what we do. And really, every single time I step foot inside a Soul Cycle class.
What do you now know about yourself that you wish you knew ten/fifteen/twenty years ago?
I got my very first (and only dog) 12 years ago. A pug. This little ball of smushed-face fur (who is sitting on my lap snoring as I type) has made me a better HUMAN BEING. I wish I knew then when I drove into the mountains of West Virginia to pick him up that this was the best decision of my life.
Fill in the blank: You can never have enough _____.
Travel adventures on a calendar.
What city best describes your personality?
San Francisco.
What gets you through even the toughest days and what are you most grateful for?
The toughest days? A good work out, a delicious glass of Cab, a call to my best friend (from the ninth grade, Aki) and my journal. I am most grateful for the strong women in my life. I am blessed with many, and they know exactly who they are. Pug kisses. And, having private outdoor space in NYC with little Christmas lights–my sanctuary.
What socio-political women's issue do you care about the most? Do you feel that women are typically presented fairly in the media? Why or whynot?
Week before last I was in Washington D.C., hosting a town hall. I interviewed 40 people all affected by gun violence. That's still on my mind–so that's my answer. It's not a female-centric issue. But, there were so many mothers, daughters, sisters who have lost a loved one. There wasn't a dry eye in the room. They don't want people's guns to be taken away (in fact, a third of the room owned a gun). I think that's the biggest misperception about this group, Everytown for Gun Safety. But, hearing their stories, it does make you wonder, "why can't something be done (gun or mental health-related) so that another Roanoke/WDBJ, Sandy Hook, Aurora doesn't happen again?" I do think women are portrayed fairly in the media, as much as I can see and read. But, we need strong women writing, producing, directing–not just in front of the camera–to maintain that fairness. And let's not forget that our male colleagues play a huge role too! Does sexism in the workplace still exist? Sure. But I've been in journalism for 16 years now, and in my experience, I am surrounded by confident, capable women. We stick together. Build each other up. Mean girls need not apply.
Although there is supposed to be a separation between Church & State, religion still seems to govern many political decisions regarding women–abortions, birth control, etc.–usually from men. What is the best approach to shift power over women¹s bodies to women?
It's simple. Educate yourself when it comes to the next election. Find the candidates who empower women/choice regarding women's bodies. VOTE.
What is your best read? Favorite character you would most like to be?
It's a tie. Anything written by Khaled Hosseini or Bossypants by Tina Fey (I think I wanna be Tina Fey when I grow up).
What will it take for women to be viewed as equal to men? Are sexist jokes problematic, and how do you feel about people¹s view that women should just ³lighten up² about them?
I guess this is the part of the interview where I come clean and admit I follow a profile on Instagram that only posts photos of "hot guys reading" on the NY subway?! I do think we all need to lighten up sometimes. Listen, as a woman, and quite frankly as a human being, I just try to be the best journalist/daughter/sister/pug owner I can be. Every day. And if that's all I can control (that and two hours every day on CNN where I make damn sure women are represented well) to ensure a strong female presence on this planet, then I'm good with that.
What was your best decision to date? Worst decision?
Worst decision: thinking I could climb the tallest mountain in Africa this year, Mt. Kilimanjaro–all 19,345 feet.
Best decision: actually pulling it off!!! Shower-free, tent living at crazy altitude with a gal pal and total strangers turned lifetime friends for 6 days on the mountain–I still marvel at our strength.
Within the past few years, social media has exploded. How can women use it to market themselves without seeming narcissistic?
Just be you. The beautiful, done-up you and the real, makeup free you. Share your life, but not your whole life, and chuck the selfie stick, please.
Write a fortune you'd like for all women to receive in a fortune cookie.
I'd need an extra big fortune cookie because I would include the second to last stanza from one of my favorite poems by Maya Angelou, 'Phenomenal Woman':
Men themselves have wondered
What they see in me.
They try so much
But they can't touch
My inner mystery.
When I try to show them,
They say they still can't see.
I say,
It's in the arch of my back,
The sun of my smile,
The ride of my breasts,
The grace of my style.
I'm a woman
Phenomenally.
Phenomenal woman,
That's me.
If you were a superhero, what would your superpower be?
Well I grew up idolizing Wonder Woman and I love traveling the world…so I'd say being able to speak ANY language, ANYwhere, at ANY given time.